Engines & Towing
2021 Ford F-150 Engine Options & Towing Ellsworth, WI
What level of performance do you need from a truck? Consider the range of capabilities offered across the six-engine lineup on the 2021 Ford F-150 engines. The all-new engine for 2021 is the eye-catching 3.5L PowerBoost™ Full Hybrid V6, which maximizes electric and gas power to create a true behemoth of a powertrain. For more specifics, read through the following 2021 F-150 engine review put together by the Ellsworth Ford team.
Find your favorite F-150 model for sale in Ellsworth, WI, in our new inventory, and match your preferred model with a F-150 offer. If you have questions, please reach out to our Ford dealership through our online form or by phone at (888) 281-7206.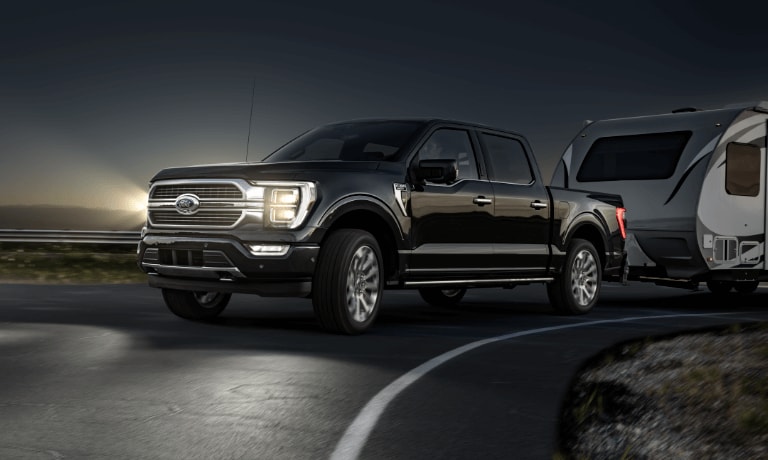 2021 Ford F-150 Engine Differences: Gas vs. Diesel vs. Hybrid
3.5L PowerBoost Full Hybrid V6
If you are searching for a powertrain that focuses on renewable energy, the all-new 3.5L PowerBoost Full Hybrid V6 was designed with you in mind. This class-exclusive engine pairs electric and gas power in equal measure to create a unique and powerful driving experience.
3.0L Power Stroke® Turbo Diesel
For a long-lasting engine with simple maintenance, consider the 3.0L Power Stroke® Turbo Diesel. This classic diesel engine is a modern marvel and provides the specs you need to get the job done.
3.5L EcoBoost® V6
Twin intercooled turbos on the 3.5L EcoBoost® deliver quick and efficient power. The port fuel and direct injection (PFDI) system has two injectors per cylinder, one inside the air intake port and one inside the cylinder. All of these features combined create the conditions for best-in-class towing figures.
5.0L Ti-VCT V8
Twin independent variable cam timing (Ti-VCT) and PFDI collaborate in the 5.0L Ti-VCT V8 engine to increase performance specs. With the new variable displacement engine (VDE) technology, this engine can turn off half the cylinders when they aren't actively being used. The 5.0L Ti-VCT V8 also produces best-in-class payload ratings.
2.7L EcoBoost V6
Using PFDI with two injectors per cylinder, twin intercooled turbochargers, and overhead cam design with variable intake/exhaust cam timing, your 2.7L engine will achieve exceptional horsepower and torque ratings. This engine also includes brawny compacted graphite iron in the upper block and cylinders.
3.3L Ti-VCT V6
The 3.3L V6 opens and closes the Ti-VCT valves to streamline the process. This engine is also paired with PFDI, which includes the typical two injectors per cylinder to maximize power and performance.
2021 Ford F-150

Engine Specs & Towing Differences

The 2021 Ford F-150 gas, hybrid, and turbo diesel engine options deliver a range of capabilities, each designed to meet a unique need. All six F-150 powertrains are matched with a ten-speed automatic transmission to make shifts effortless. The following table shows the F-150 specs in detail.
| | | | | | | |
| --- | --- | --- | --- | --- | --- | --- |
| Engine | 3.5L PowerBoost Full Hybrid V6 | 3.0L Power Stroke Turbo Diesel | 3.5L EcoBoost V6 | 5.0L Ti-VCT V8 | 2.7L EcoBoost V6 | 3.3L Ti-VCT V6 |
| Horsepower | 430 HP | 250 HP | 400 HP | 400 HP | 325 HP | 290 HP |
| Torque | 570 lb.-ft. | 440 lb.-ft. | 500 lb.-ft. | 410 lb.-ft. | 400 lb.-ft. | 265 lb.-ft. |
| Towing Capacity | 12,700 lbs | 12,100 lbs | 14,000 lbs | 13,000 lbs | 10,100 lbs | 8,200 lbs |
| Payload Capacity | 2,120 lbs | 1,840 lbs | 3,250 lbs | 3,325 lbs | 2,480 lbs | 1,985 lbs |
2021 Ford F-150

Engine Model Availability
3.5L PowerBoost™ Full Hybrid V6 - King Ranch®, Platinum, Limited
3.0L Power Stroke® Turbo Diesel - Lariat, King Ranch, Platinum
3.5L EcoBoost V6 - Lariat, King Ranch, Platinum, Limited
5.0L Ti-VCT V8 - XL, XLT, Lariat, King Ranch, Platinum
2.7L EcoBoost V6 - XL, XLT, Lariat
3.3L Ti-VCT V6 - XL, XLT
Learn More About the 2021 Ford F-150